~~Defender of Faith~Guardian of Truth~~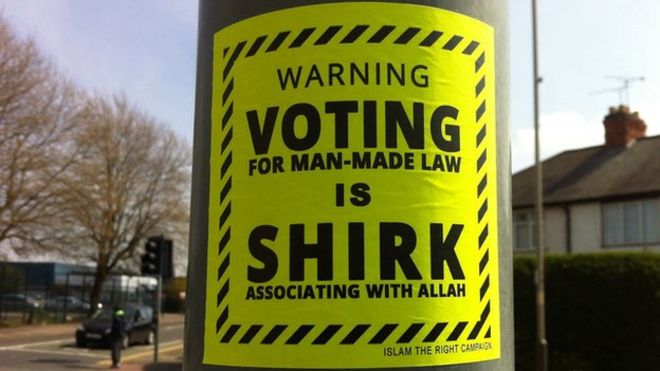 The anti-voting flyers have been posted on streets around Leicester
Flyers claiming voting in the election is anti-Islamic and urging people not to vote have been branded "cowardly" by a prominent imam.
Bright yellow stickers have been posted in areas of Leicester with large Muslim communities saying voting is "shirk".
Shirk is the sin of worshipping someone other than Allah and is considered the most grievous crime for a Muslim.
Dr Ather Hussain described the signs as "laughable" and suggested it was extremists trying to cause division.
Or is this just a liberal dose of Taqiyya from Dr. Hussain? [The term is derived from the Quranic reference to religious dissimulation in Sura 3:28: ]… A related concept is known as kitman "concealment; dissimulation by omission". Also related is the concept of ḥiyal, legalistic deception practiced not necessarily in a religious context but to gain political or legalistic advantage.
The…
View original post 332 more words